Suburgatory Wiki
Welcome to the Suburgatory Wiki, a collaborative encyclopedia for everything and anything that is related to the tv show Suburgatory. There are 167 articles and we are still growing since this wiki was founded in 2011. The wiki format allows anyone to create or edit any article, so we can all work together to create a comprehensive database for the Suburgatory franchise. Don't forget to visit this wiki's Guidelines before editing.

Poll of the Month
Which is your favorite character?
Did You Know...
That Dallas "Royce", named after "Roles Royce" meaning expensive or rich?
That Dallas, is named after Dallas, Texas, with her accent, and in relation to the new ABC Show GCB?
That Carly Chaikin, who plays the role of Dalia Royce, is actually Taylor Swift's best friend and that her acting career began because of the "Picture To Burn"'s music video?
Helping Out
To add more Did You Know, go here.
Do you know some important news about Suburgatory? Write them here.
To write a new article, just enter the title in the box below.
Featured Character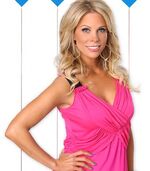 Dallas Royce is the mother of Dalia Royce. An arrangement of tightly clad curves topped by a wide row of white teeth and a cascade of blond hair, Dallas is the typical non-working stay-at-home housewife you would find behind the wheel of a fully-loaded SUV. Dallas arbors a hefty supply of sugar-free Red Bull that would put the best "Extreme Couponing" participant to shame. Dallas is the trophy wife of Steven Royce. Stephen most likely is still hanging around because his pay check buys Dallas and her teenage daughter Dalia their expanded supply of designer-label clothing and countless visits to the tanning salon. (more...)

Help
Do you have any questions?
Ask one of the admins.
Suburgatory News
Suburgatory wins best comedy aside from Last Man Standing on ABC, they won for Wednesday!
Chat
Feel like talking about rumors about Suburgatory? Just want to talk about stuff?
Visit the Forum to talk about it.
Featured Episode
The Casino Trip is an episode in Season One. In typical Chatswin fashion, everyone in town is attending a stupid fundraiser for another stupid charity. The only reason the men even attend is to participate in the raffle, which is an all-expenses paid trip to Atlantic City. While Noah is feeling luckily, he doesn't win... but George does! And those two closeted gay neighbors. George begrudgingly leaves Tessa alone at home, Fred lies to Sheila about visiting his dying aunt and all five guys hit the streets of New Jersey. (more...)